---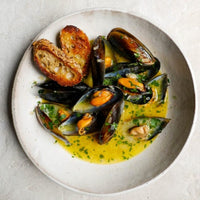 Looking for a quick appetizer?
These beautiful Chilean Whole Blue Mussels in White Wine Sauce are pre-portioned, seasoned and can be ready to eat in 6 mins with no defrosting required! Farmed in the rich and pure waters of the island of Chiloé in southern Chile these premium mussels are delicious by itself or can be used in a variety of recipes! 

Chilean Whole Mussels cooked and quick to prepared
No added preservatives, gluten free and no added salt

Pre-portioned in 1lb packs
Size: Approx. 450g per pack
Storage: This item comes frozen and pre-portioned in approximately 450g packs each.
3 Easy Steps for Preparation & Cooking: 
1. Empty the frozen mussels into a saucepan and season with salt and pepper (or your favourite seasonings) 

2. Heat on high over a stovetop for 6 minutes.
3. Plate and serve! (Goes great with a mash potato, pasta, or your favourite veggies!)
More Ideas to Try: 
- Serve it with a couple of toasted bread to soak up the delicious briny sauce at the bottom of the pan!
- Pair the your mussels with one of our signature sides like the Pommes au Fondantes!