---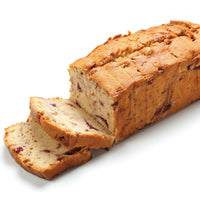 A deliciously moist and flavourful raspberry & pear loaf made in Australia, pre-sliced into 13 servings.
Baked to perfection with the delicate sweetness of pear offset by the delightful tartness of raspberries. This is a breakfast treat the whole family will love.
Stored frozen. Simply defrost in the microwave, oven or toaster, add butter, jam or maple syrup and enjoy!