---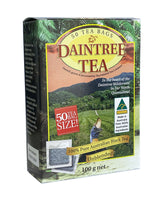 Daintree Single Origin Tea Bags (50 Bags)
About Daintree Tea: Grown in the lush tropical Daintree Rainforest of Far North Queensland, Daintree Tea is pure, unblended and grown without the use of chemical pesticides. The result is a deliciously natural taste and aroma, as this black tea contains no tannic acid and is low in caffeine.
What is Single Origin Tea? Daintree Tea has not been blended or mixed with any other teas. This ensures the pure quality of 100% Daintree Rainforest-grown black tea in every pack, and is a mark of quality among tea connoisseurs. 

Preparation: place one (1) tea bag in a cup and fill with boiling hot water. Allow 3-5 minutes for the tea to steep. Remove the bag, and add a spoon of sugar, some lemon or a dash of milk to taste.

Contains: 50 loose tea bags without tags or strings. To ensure minimal environmental impact, less packaging is used in the production of this product.
Store: in a cool, dry place away from direct sunlight.
Made in Australia from 100% Australian ingredients.